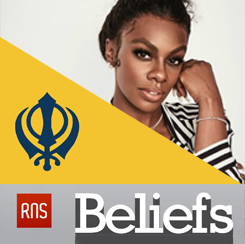 Sikh faith highlighted as a social media star objects to turbaned men on a plane.
Mar 23rd, 2019 by Beliefs
This week an Instagram star became the most recent object lesson in prejudice and bigotry. Influencer Jess Hilarious publishes a raft of posts to her social accounts reaching millions of people - telling the story of how 4 men in turbans made her feel 'threatened'. The posts were met with intense backlash. 
Jess responded first with angry defense. When she tried to apologize and made things worse, the fallout only grew.
What is known: Four Sikh men were removed from the plane. Unknown is what airline they were flying or what became of them from there.  To unpack the variety of moving parts, Beliefs producer Jay Woodward met with Simran Jeet Singh of the Sikh Coalition in New York to discuss this layer cake of cruel mistakes and prejudice.  
Share
|
Download