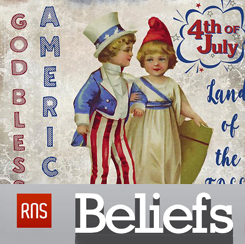 God Bless America: The Theology Of The Fourth Of July
Jun 23rd, 2019 by Beliefs
Independence Day gives us another opportunity 
to reflect on the ideological tug-of-war of religious freedom in America. 
The Declaration of Independence is our topic today. 
What can we make of the four references to god in the text? 
Should we listen? 
 
Our guest is author and academic Ira Stoll. 
He's the author of the books - Samuel Adams: A Life, and JFK, Conservative. 
He's also the managing editor of Education Next - 
An education policy journal published by 
Harvard's Kennedy School of Government.
Ira Stoll joined Beliefs producer Jay Woodward from his office in Boston. 
Share
|
Download