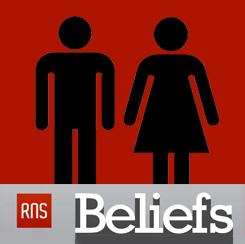 Equal or Complementary? Gender roles in faith traditions.
Jun 15th, 2019 by Beliefs
An old debate resurfaces around this year's Souther Baptist Convention. Complementarianism is a theological view that men and women fulfill separate and complementary roles in life.  
Central to these conversations is renown Bible teacher Beth Moore.
Pastor? Teacher? Preacher? Disobedient? What kind of complementarian.
Emily McFarlan Miller is a national reporter for RNS based in Chicago. She covers evangelical and mainline Protestant Christianity.  She joined Beliefs producer Jay Woodward to see what people are saying about complementarianism today. 
Share
|
Download