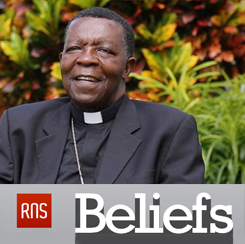 Bishop Nicolas Djomo of the Democratic Republic of Congo
Sep 29th, 2019 by Beliefs
The Democratic Republic of Congo is the largest country in sub-saharan Africa. The area has struggled with outbreaks of both ebola and measles, and the province of Kivu has seen broad conflict and the UN's largest and most expensive peacekeeping mission that's been in operation since 2010. 
When government and social systems fail, it's often the church that steps in to save the people. This is an example in one of the world's poorest places. 
Host Bill Baker met Bishop Djomo in New York to learn about the role the Catholic Church plays in supporting the stability of Congo. 
Share
|
Download