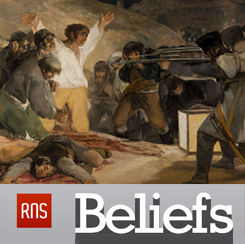 Beliefs Review: Religion And Social Justice
Jul 7th, 2019 by Beliefs
As we look back on our first six months of Beliefs, we've noticed some themes in the stories and topics we're bringing you...We've covered origins and practices, abuses and pain, and hate speech and bigotry. 
One bright theme we've seen is the enduring commitment in all religion to social justice and community. This week on Beliefs, we're returning to three compelling moments that speak to the way religion asks us to help and protect each other.  
Political activist and social justice advocate, Rabbi Rachel Timoner from Congregation Beth Elohim is our first guest on the inherent responsibility she feels toward social justice she feels as a rabbi and Jew. 
Continuing our review of community and social justice is our conversation with the senior minister of the 350-year-old First Congregational Church of Old Lyme, speaking with guest host Karen Hayward about a Puritan approach to modern society. 
Our last conversation is with a respected and thoughtful voice in the Catholic Church. 
Fr. James Martin is a Jesuit priest, scholar, author, 
and editor-at-large of the Jesuit magazine "America."
He has turned his attention to a social justice issue that has moved to the front of many faith's consciousness in recent years. Methodist, Episcopalian, and Evangelical Covenant Churches – just to name a few recent examples - have wrestled with LGBTQ inclusion.
Fr. Martin is the author of the book, "Building a Bridge: How the Catholic Church and the LGBT Community Can Enter Into a Relationship of Respect, Compassion, and Sensitivity." 
Share
|
Download