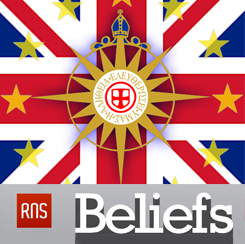 Anglican Bishop Martin Warner and Brexit: Approaching the final hour
Feb 23rd, 2019 by Beliefs
The United Kingdom is weeks away from a forced exit from the European Union that will bring unknown changes to the economy, politics, logistics, and everyday life. In advance of the Church of England General Synod in London, producer Jonathan Woodward speaks with Bishop Martin Warner of the West Sussex Diocese of Chichester. 
Why do the bishops generally support the Remain campaign, while 66% of Anglicans voted Brexit?
What changes, responsibilities, and concerns does the church anticipate meeting?
Is this the first time the Isles have parted ways from the power structures on the Continent?
Share
|
Download