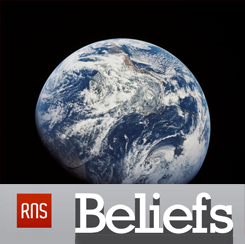 Adapt or Die: Religious Evolution and Human History
Jan 10th, 2020 by Beliefs
Observations on religion and faith on an international stage.
Finding the ways that religion has served people through history, but also finding ways that religion makes itself irrelevant. That's what our guest is exploring this week.
Since retiring from a career in international financial consulting based in New York City, Robert Henrey has devoted time to writing and travel in Asia and the Near East, as well as to community involvement. An ordained Catholic deacon, he served over a decade as a hospital chaplain. More recently he has embarked on a series of lectures sharing his experiences and reflections with community groups on a number of his lifelong interests. These include the richly paradoxical histories of the major religious traditions and the impact of different languages on culture.
His most recent book Bloodshot Mountain published in the UK recounts the profound social and economic impact on early colonial Latin America of the discovery in the remote Andes of the world's richest silver mine. He is currently working on a writing project involving early linguists who set out to explore and find common ground with faraway cultures.
He is a graduate of Oxford University where he studied language, history and literature.
Share
|
Download