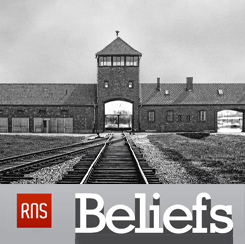 Harrowing Legacy - Auschwitz, 75 Years Later
Jan 24th, 2020 by Beliefs
Around 9am on January 27th, 1945, the Red Army liberated the Nazi concentration camp Auschwitz in south-western Poland.  Over 1 million Jews and tens of thousands of others were killed at this sprawling complex of 48 concentration and extermination camps.  
The Museum of Jewish Heritage - A Living Memorial to the Holocaust has mounted a groundbreaking exhibition  - bringing together more than 700 original objects and 400 photographs from around the world.  
Beliefs Producer Jay Woodward visited the exhibit - "Auschwitz. Not long ago. Not far away" and spoke with Museum president Jack Kliger.  
Share
|
Download