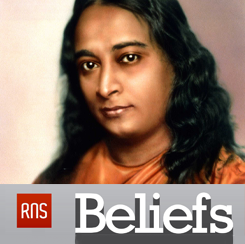 A Yogi For The West – Paramahansa Yogananda & The Self-Realization Fellowship
Jan 31st, 2020 by Beliefs
This year marks the 100th anniversary of the arrival in America of Paramahansa Yogananda – widely considered to be the father of yoga in the West. Yogananda devoted his life to traveling and speaking across America, bringing a message of spirituality and unity between religions.
He introduced millions to the practice of meditation and Kriya Yoga. His influence was vast. His book, Autobiography of a Yogi was deeply influential in the lives of figures from George Harrison to Elvis Presley.
Steve Jobs, founder of Apple Computers arranged for every attendee at his funeral to receive a copy – a book he is said to have read every year.  
To learn more about Paramahansa Yogananda, Beliefs producer Jay Woodward went to the Self Realization Fellowship International Headquarters on top of Mount Washington overlooking downtown Los Angeles.  Our guests were Sister Draupadi, Brother Prafullananda, Brother Bhumananda, and Brahmachari Andy of the Self-Realization Fellowship. 
Share
|
Download